ATLANTIC CANADA'S LARGEST RV SHOW AND SALE
With the RV and camping industry experiencing a surge in demand, there's no better time to make a lasting impression on a targeted audience. Our event offers a range of booth options, catering to both small and large businesses, and our dedicated team will collaborate with you to create an ideal showcase for your brand. Be the talk of the town as you unveil new product lines, establish your brand presence, and forge direct connections with Nova Scotia's vibrant camping community.
Some recent data collected at the 2023 event indicated that 38% of attendees do not own an RV and  50% of our attendee's plan on purchasing or trading in an RV in the next year or so!
EXHIBIT PACKAGE & PRICING
UNBEATABLE EXHIBIT VALUE!
Booth packages make your booth look like the leader that you are. Our all-inclusive exhibitor package includes:
• 8' drapery backwall
• 3' drapery sidewalls
• Aisle carpeting
• Booth carpeting (10' x 10' booths only)
• Free exhibitor parking
• Container storage
• Daily booth vacuuming
• Discounted admission passes
• Forklift services to and from your booth (up to 5,000 lbs.) provided that special lifting and moving equipment is not required

PRICING:
• 100 sq. ft. – $9.90 sq. ft.
• Over 2,000 sq.ft. – $3.70 sq. ft.
• Table Top Display – $500

Book Space
To fax or email your Space Rental Contract, please click the "Download" button to get a copy of the contract then send it in to us using the information on the form. To fill out the Space Rental Contract online, please click the "Online" button to the right.
Marketing Toolkit
Elevate your visibility at the Halifax RV Show with our assortment of ready-to-use digital assets. These resources are tailored for your convenience and are ideal for enhancing your online presence. Whether on your website, social media platforms, or digital newsletters, these digital ads will help you make the most of your participation in the event!
DATE, TIME & LOCATION
Thursday, January 18
12noon – 8:00pm
Friday, January 19
10:00am – 8:00pm
Saturday, January 20
90:00am – 8:00pm
Sunday, January 21
10:00am – 5:00pm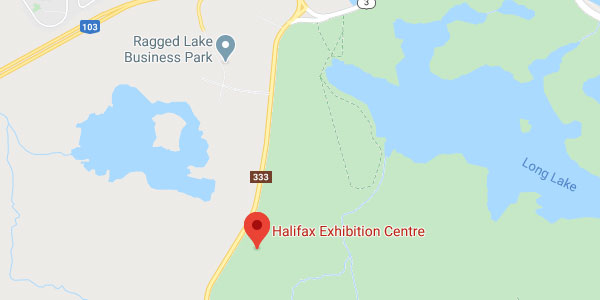 Halifax Exhibition Centre
200 Prospect Road
Halifax, NS
B3T 1P2
(902) 876-1811
Accommodations
Cambridge Suites Halifax
1583 Brunswick St, Halifax, NS B3J 3P5
$130 per night
Click here to reserve your room

Best Western Chocolate Lake Halifax
250 St Margarets Bay Road, Halifax, NS B3N 1J4
$139 per night
Click here to reserve your room
Cut off date December 16th, 2023
2023 Exhibitor List
270 West Consulting
Aerus Water
Ahara
Alpine
Allstate
Alta
Arbor Memorial
Apple Valley Brewing Co.
Atlantic Used Oil Management Association
Avalanche
Bath Fitter
Bluenose RV Centre
Braxton Creek
Bullet
Campground Owners Association Nova Scitia
Catalina
Cellboosters NS
Cherokee
Coachman Clipper
Coachman Northern Spirit
Coachmen APEX
Cougar
CRC RV Centre
CrossRoads Zinger
Della Terra
Durango
Egyptian Comfort
Epro
Flagstaff
Forest River 
Fraserway RV Accessory & Camping Store
Fraserway RV Limited Partnership
Gordon Stirrett Wealth Management
Grand Design Imagine
Grand Design Reflection
Grand Design Transcend
Grey Wolf
Gulf Stream
Halifax Distilling Co
Helio
Hideout
Hitch
Impression
Intech
Jayco
Jerry's RV Trailer Sales
Kampgrounds of America (KOA)
Leanne Penney- Epicure
Leisure Days RV
Leisure Time RV Sales
Leprechan Motorized by Coachmen
Little Guy
Luc Morin Enterprises
Maritime Gourmet Nut Company
Nomad Lifestyle Clothing
NuCamp
Nurple Sauce Company
Outback
Palomino
Parson's RV Centre
Passport
Pine Acres RV- Stewiacke
Premier
PrimeTime Tracer
ProLite
Prowler
Puma
Residence
Retreat
Roadtrek
Rockwood
RV Careers- RVDA of Canada
Saltwinds Coffee Company
Sandpiper Destination
Shamrock
Sierra
Sportsmen
Springdale
Ssandpiper
Still Fired Distilleries
Stone's RV
Tandara
Tasteylicious Treats
TD Auto Finance
Tranont Canada
The BIG (Billyard Insurance Group)
The Cake Lady
The Dog Ate It
The eBike Center
Trail Runner
Travel Lite Rove
Venture Sonice
Venture SportTrek
Venture Stratus
Viking
Wayfarer Insurance Group
Wildwood
Winnebago
Wolfpup
Work & Play
Zinger